Explore our recent stories to see what drives us
31 August 2021
Grünenthal's site in Mitlödi is powered by green energy

Grünenthal's team at its API site in Mitlödi is taking action to protect the environment and has now switched to 100 per cent renewable energy from a nearby source. Find out more about this achievement and our team's big plans for a greener future.
Grünenthal's API (active pharmaceutical ingredients) plant in Mitlödi, Switzerland, is surrounded by picture-perfect scenery. The location in the main valley of the Glarus Alps is simply breathtaking – and the local area also offers fantastic opportunities to drive progress toward sustainability. The valley is home to a state-of-the-art pumped-storage power station that is built underground. It generates enormous amounts of clean, green, renewable energy which can be stored by pumping water from Lake Limmern up to Lake Muttsee, which is located 630 metres higher up the mountainside and features the highest dam in Europe.
Our nearby API site now sources 100 per cent of the electricity needed for our processes from this local hydropower system, making an essential contribution to cutting Grünenthal's CO2 footprint. The site in Mitlödi also recycles 90 per cent of the solvents, such as acetone and ethanol, which play a crucial role in our production process. Our local team is now exploring ways of pushing this recycling figure even higher to keep more solvents in our cycles for longer and reduce the related waste and emissions. Since 2019, this recycling initiative had already saved 1,000 tons of CO2 per year compared to 2012.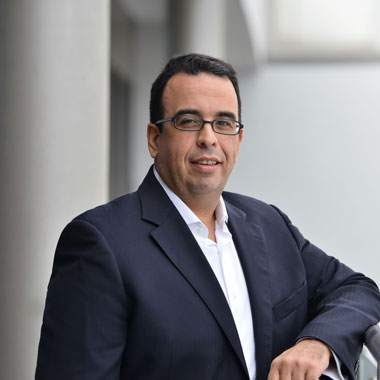 "Our achievement is an excellent example that productivity and sustainability do not rule out."
In addition, the team is now evaluating opportunities to cut our use of natural gas, which is currently used to generate heat. The team is also looking into switching to a heat pump powered by green electricity from the nearby pumped-storage power station. They never stop searching for ways to boost efficiency and drive sustainability.